Fish on!
Take a look at some of our recent trips for Salmon, Steelhead, Bass and more.
Information
What to bring, when to go fishing and what to expect on your trip.
What To Expect
Your Guided Trip I prefer to fish with two guests/anglers at a time. A third fisherman is optional with additional fees. You can expect a clean vessel and top of the line fishing gear. I promote good river ethics. As a fishing guide I can only provide opportunities – the rest is up to mother nature. […]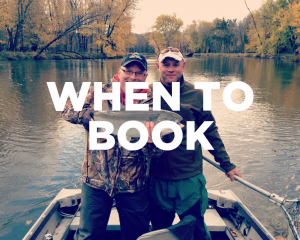 When to Book
Peak Seasons Each season of the year has a peak time different species. To ensure availability, booking ahead of time is encouraged. Salmon – August throughout Early October Steelhead – October & November is our peak season, along with spring steelhead in March & April Trout – May through August Bass & Pike – June, July […]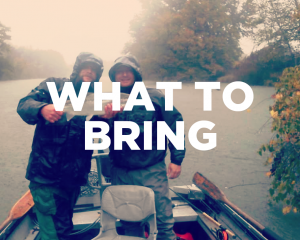 What to Bring
Be Prepared: Come ready for any weather! Northern Lower Michigan can have unpredictable weather at times. Especially during some of the peak steelhead seasons in fall and spring. What to bring can be a big worry. I encourage you to be prepared with reliable personal gear. Bring safety glasses or sunglasses to protect your eyes […]
Fishing Report
Stories from our office on the Manistee River.
It is the dog days of summer here in northern Michigan! I've been concentrating my efforts on bass and pike primarily on the lower big Manistee River. Been taking some nice fish in the morning on top water baits. A combination of soft plastic baits and hard body crank baits have been effective as well. […]
Testimonials
What our customers are saying.
He will always put you on the Fish!

My friends and I have been coming to Michigan for a weekend (twice a year)(and a occasional summer trout trip) of fly fishing for over sixteen years. We began using Chris as one of our guides 16 years ago and we would never go back to anyone else. Our fly fishing trips have risen to a whole different level as far as diversity and excitement. Chris can fish areas no other guide can touch due to his skill and use of a drift boat and/or a river boat. We have had some truly phenomenal fishing days in water that gives other guides difficulty. I will never forget my trip one June, where I took my 6 year old on his first trout trip, and Chris went above and beyond teaching him the ways of the water, the fish, and how and what bugs live in the water. We've had days that we caught more fish than I could even count!  Also, I have always  enjoyed my trips with Chris, he does everything he can to make the trip a lasting memory no matter if it is Hot, Cold, Rainy, Foggy, Snowy, or all the above in the same weekend, and sometimes the same day! He will always put you on the Fish! Thank you Chris for all you do, you are a Great Guide and Good Friend. Slainte!

- Troy Owen

No hesitation when choosing Chris.

I started fishing with Chris about a year ago. Every time I have fished with Chris he has put us on some awesome fish. Chris will take the time to explain why you are fishing with a particular lure to catch the target fish. He also shows you casting technics and the best places to cast. Last spring I brought a client fishing with Chris and I, and we had a great time and caught some nice fish. I would recommend my friends and business partners to Chris' fishing services, and can't wait to get back on the river.

- Bruce Vester

The smile says it all.

What a great day on the Big Manistee! Fall colors, the tranquility of the river, good sportsmanship, and an exciting outcome. I previously wondered what the "big deal" was regarding Steelhead fishing given previous fall encounters with Salmon. Combined, all of this made this a special memory. Thanks to your knowledge of the river and fishing in general, the boating of four Steelhead that day made this a most memorable experience. I'm already looking forward to booking with you again next fall!

- Steve Montayne
All Tackle Fisherman is a fishing outfitter serving the Big Manistee River near Wellston, Michigan. All tackle, fresh water fish in Northern Lower Michigan. We offer fresh water fishing of Salmon, King Salmon, Pike, Bass, Trout using various tackle and bait. Chris Martin is a fisherman with fourteen years of guiding experience in Michigan and Montana.